Community news
Support our friend Wooster at CR
The server issues at Court Records.net have been going on for over a month now. While they may seem something to laugh about, the reasons behind why it has taken so long are far more serious. Our friend Wooster, who maintains the forum server, was attempting to fix it last month, when he was suddenly swept with a chain of hardship and bad luck for him and his family.
In an "open letter" that he has written to the Court Records community in the backup forums, he gave a long explanation of what he has been through, which you can read
here
. I have cut and pasted quick summary of his post, but I recommend that you read the original to give you a far greater understanding.
Wooster a écrit :The original plan was for CR to be transfered and over with in 48 hours or so, It's been maybe two months now. We botched something up in the configuration of the new server, such that the server things the domain is tied to a wholly fictional domain. Undoing that damage turned into a large headache. I got an insignificant way through that when my life just unzipped.

[...]

My father has been dealing with cancer. More specifically T-Cell Lymphoma. I'm not sure if that it how it is spelled, I have only heard it spoken to me verbally. The cancer started on his spine, and moved upward to his brain. The spinal cancer, to the best of my knowledge has been (as of this week?) eradicated, and the cancer in the brain is on the decline.

That's the good news.

Meanwhile, he's gone through a slue of mental changes through this cancer. He's been what I could only qualify as being clinically depressed. Then he had heart attacks. Then he had mental regressions. [...]

[...]

During December, while my Dad was authorized to work from home, decided to use up all of his sick and vacation days, as he felt it was his right as the cancer patient. (After all, he can do no wrong, he's got cancer you see.) Because he didn't work a pre-defined minimum that month, he got taken off his insurance, AND what little he did work in January got taken out of his account for reasons that I'm very fuzzy on. We paid our mortgage that month with that money.
That being only one of the issues that he is going through. Many additional problems, including many of the new born goats dying and their shelter being torn to shreds by blizzards, has lead his family into debt.
It is clearly an emotionally and financially horrific time for Wooster at the moment, which is why the entire community is pouring its heart out to him and offering support. A fund, dubbed "
Operation: CR Gives Back
" has been set up by Ceres to raise enough money to give Wooster the financial support he needs. In a matter of hours, over US$500 has already been raised.
Your help would be greatly appreciated in supporting Wooster. It would be unimaginably helpful if you could spare even just $5 (or £5, or any other currency you prefer) for him.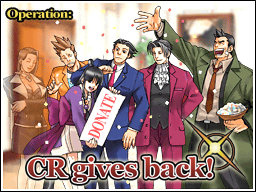 However, I would like to point out that we have received no response from Wooster after his "open letter" was published only a few days ago. It is unknown whether Wooster will accept the money (even though we will force him to whether he likes it or not). You might, perhaps, want to wait until he gives a response if you plan on donating, but that is up to you.