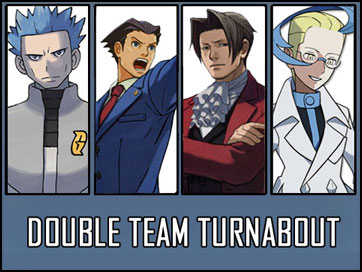 Double Team Turnabout is a dramatic comedy, but primarily a wacky and snarky comedy nonetheless, and an Ace Attorney parody/envisioning of the events of Pokemon Diamond/Pearl/Platinum. This is my very first attempt at making an AAO case, so the case was split into four parts for its overall release.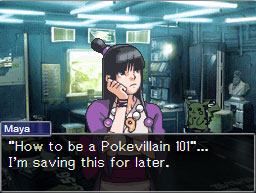 Plot Introduction:
Taking place in Sinnoh, several bounty hunters descend upon Team Galactic's headquarters during an unnaturally strong lightning storm, and one of Team Galactic's own commanders is found dead. Dr. Colress, a brilliant scientist formerly of Team Plasma who has recently allied himself with Team Galactic's research, is accused of the murder. Dragged by Maya into defending Dr. Colress, Phoenix soon uncovers the truth that Team Galactic is not as benevolent as they seem in their TV commercials and is planning to reset the entire universe to zero. With the storm outside growing alarmingly worse, Phoenix gets to work on uncovering the truth behind the murder, the mournful history behind Dr. Colress's past, and the secrets hidden behind the incident that brings all of time and space to the verge of starting the world anew.
Part 1
(Investigation Day 1)
:
http://www.aaonline.fr/player.php?trial_id=96491
Part 2
(Trial Day 1)
:
http://www.aaonline.fr/player.php?trial_id=98890
Part 3
(Investigation Day 2)
:
http://www.aaonline.fr/player.php?trial_id=99071
Part 4
(Trial Day 2)
:
http://www.aaonline.fr/player.php?trial_id=99161
Resources Used:
Full Soundtrack:
Screenshots:
Walkthrough for Part One:
Walkthrough for Part Two:
Walkthrough for Part Three:

Walkthrough for Part 4:
Update as of 11/11/17: apologies to anyone who had saves in parts 2 or 4, these are now modified. An assortment of miscellaneous changes and corrections, some tweaks like the beat drop being removed from the allegro's loop, and all four parts now added in a sequence.
Special thanks to Fanfreak247 for helping me with learning the ins and outs of the editor and providing general resources and assistance, as well as Super legenda for beta testing. Any suggestions, needed corrections, or feedback of any kind is always welcomed and appreciated.