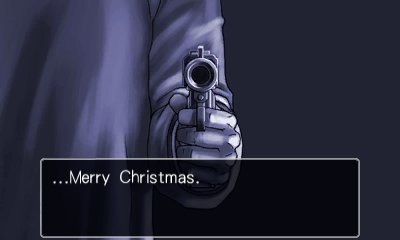 No Place like AAO for the Holidays
We had a murder on Christmas Eve. That means this is a holiday game, right?
Well, I don't know about that, but I think we should try it out, seeing as this comp will take us to December.
For this competition, I'm asking you to create a case that's centered around a holiday. Just because the image says "Merry Christmas," doesn't mean it has to be about Christmas specifically. It could be about Halloween, Thanksgiving, or even Hanukkah. Or if you're not from the US like I am, about some other holiday in some other country. It just has to center around a holiday. And note that
it can't just take place during a holiday, either.
The story, mystery, or premise has to be centered around that holiday.
The entries will be judged based on the following criteria:
-
Story:
Make sure your story is presented well, make it interesting, and give it your own personal touch to make it great.
-
Writing:
Every case needs to have some form of good writing in order to be...well, good. Bad writing can be a pain to sit through. *cough*turnaboutbigtop*cough* Make it funny, clever, dramatic, or just engaging.
-
Gameplay/Presentation:
Make sure that your case is functioning properly, that it runs smoothly, and bonus points for doing something new.
-
Theme Relevance:
Once again, make sure your case fits with a holiday of some kind.
Rules:
-Entry must be completed between September 7, 2019 and January 7, 2020. (Of course, there will be a few exceptions for time zones and all that jazz.)
-Entry must not be showcased until after the deadline, but may be showcased before the judging period ends.
-Entry may be a trial, investigation, comedy or miscellaneous creation.
-Entry must incorporate a holiday as its theme.
-Entry may contain spoilers for any Ace Attorney game except Dai Gyakuten Saiban 2.
-Entry may be incomplete. (Though it'd be nice if we could get a complete entry here.
Looking at you, clcman.
)
The case must be submitted to DJJ6800 with a walkthrough by January 7, 2020, at 11:59 PM CST (with a 24 hour grace period to account for time zones).
Entrants:
-clcman and the.armenator
-
Vagrant
-Dannyplayssomegames
-
Superaj3
-trialdude
Good luck to you all!