(Fun story: Did you know my sprites are Phantom-approved? Shocked me too. In fact, he was the one who was like "GO MAKE AN ART THREAD. GO." So I did. :'D)
Timeline:
2/22/12: Thread made at Phantom's behest (...yes, you read that right and so did I). Posted Self-Portrait and Younger Gavin Brothers.
2/27/12: Justin Lawrence's Sprite Sheet debuted.
2/29/12: Selene Ritter's sprite sheet debuted.
Right-o! Welcome to my art thread! Containing decent sprites and art that is probably going to be of so-so quality when I make it. Let's begin!
First sprite: Self-portrait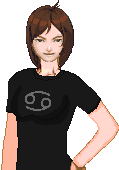 This sprite was a fair bit of fun to make. (...Yes, I moonlight as a Homestuck. But that shirt is just really comfy! I swear!) I might make an attorney version of this sprite/myself at another point in time.
Second sprite batch: Young Kristoph and Young Klavier
Klavier, age 6. Gawd, he came out so cute~! He's designed with the full intention of being the cutest little hyper bugger ever. Also, he still thinks it's okay to eat bugs at this age. Headcanon. Obviously I used Pearl as a base, since I didn't like any of my other choices (...Cody? Some kid from the Investigations games? Eh) and I wanted her adorable eyes. (Isn't he just KAWAII DESU?! *ROCKET PUNTS SELF TO THE MOON*)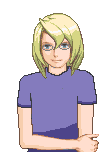 Kristoph, age 14. Used Machi as a base. I really like how this one came out.
Just... don't mention the shading. AUGH!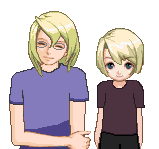 Both bros here and Kris doing his signature head-[Censored : No lesson on male anatomy, please...] (though in the wrong direction, I later noticed... well, it's towards Klavvy, so I guess it works). Used as a family picture in one of my cases.
First sheet: Justy Law
This sheet is going to be for my original DA! He's going to be for timeframes when I can't use Apollo. I'm getting help with animating him currently, so all I have is a sheet for him.
Second sheet: Selene Ritter
The prosecutor to go with Justy. She's currently being animated.
Spoiler : Selene Ritter :
That's all for now (2/29/12)! We'll see if/when I generate something new.