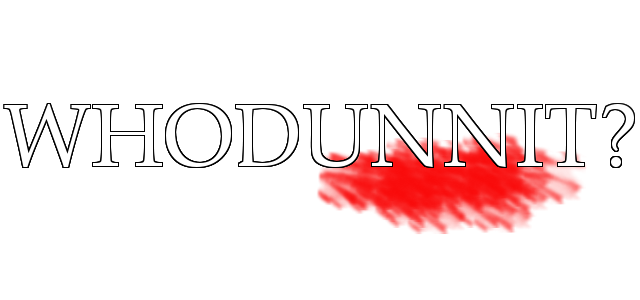 Whodunnit: 12 Puzzles of Christmas Edition


This Round will be played between 12:00 P.M. - 10 P.M. EST
He sees you when you are sleeping. He knows when you are awake. He silently laughs over your bloodied corpse. No, this is not the jolly Kris Kringle that is joining us tonight! Our guest of honor on this night of treachery is the murderer who plans on massacring each and every one of you. As blood drips through the cracks of time on this Christmas night, ask yourself this, have you been naughty or nice this past year? Judgement shall be passed on this holiest of nights.
Backstory
Dear Miserable Lonely Reader,
Spending Christmas alone sucks, doesn't it? Well there is no reason to fret, because I can guarantee that this Holiday season will be the most thrilling one you have ever experienced. As an enthusiastic puzzle connoisseur, I have constructed an exciting labyrinth of puzzles to help celebrate these jolly times. Consider it a present from me to you. And hidden inside this labyrinth, there is one puzzle holding a secret prize that belongs to whomever can solve it. I hope to see you here, and have a happy puzzle hunting!
Sincerely,
N. O. Treal
Returning Rules
The GM has all the normal GM rights. If something goes wrong, the GM can fix it.
For instance, if it turns out that there are way too many rooms, the GM can magically close some of them off.
This mystery cannot be solved without clues that are not presented!
In other words, while you are playing as you, you still can't use clues another person found until he/she tells you about it.
The killer's must've at least seen tools he uses to pull off his kills. If he has seen them and taken them with him secretly, then he can just use them at the time of the killing. If he has seen it but not taken it, he has to incorporate how he was able to get the weapon in his description of the crime.
At the start of each round, I will select a player I will call the 'detective'. That person has the right to use three secret actions.
(In other words, do something that the other players and the killer himself is unaware of.)
The killer has the right to select an accomplice. This accomplice does not have to be revealed in the revealing of the solution. This accomplice cannot kill.
This accomplice is allowed to stay alive at the end (in other words, the killer doesn't have to kill him).
The killer has 12 Hours to kill everyone.
Time won't move in real-time, obviously. (In other words, I'll decide when I believe time should move forward.)
From the start, the killer has the right for ONE blackout per hour.
When the clock reaches the 12th hour and the killer failed to kill everyone, the killer has lost. However! During this time, other members will be forced to make their choice of the killer and explain the mystery. Should their answer be incorrect, nobody wins.
During one blackout, the killer can only kill ONE person.
The killer is allowed ONCE per game to kill TWO people in one blackout.
The killer's actions MUST be possible within his physical limitations (you can't just

get out

of a locked room like a magician...)
Label your actions with green, please. It would make things much easier:
Code : Tout sélectionner

[color=#008000][b][/b][/color]
All of the entrants, please keep your online status hidden while playing.
The culprit cannot pickpocket during the blackout.
The killer can't god-mod.
In other words, you can't magically knock 5 people out in one room. Nope. Sorry, pal, doesn't work that way. No sir.
Secret actions such as pickpocketing will be informed to the person on the recieving end
(in other words, they WILL notice). This can also apply to certain situations in that sense (a secret action that I, for example, find extremely obvious or something similar).
There cannot exist more than 1 secret passage.
These bastards have pretty much screwed you over in the past, and really gave a killer WAY, WAY more advantage than it should've (I'm looking at you, Round 2!)
If a body has yet to be found within an in game hour of its death, a hint of its existence will be given. (This onlly means existence, not location).
All text while inside a secret passage must be in spoiler tags.

Killer is strongly encouraged to choose inactive players as victims (Making no attempt to participate by either saying so out loud or by missing two in game hours.
Devil Rules
A major change will be brought to the survivors. While a detective with three secrets actions will still be in place:
Each survivor that doesn't posses any of the roles mentioned above has the right to ONE secret action during the round.
At the beginning of the game, all survivors are given a special... "power". They have a shot to throw ONE
blue truth
at me per round, the game master. For those of you who don't know, a
blue truth
is a theory or a hypothesis the player makes in trying to solve the crime. I, the game master, will respond to that blue truth, with a
red truth
(in other words, I will truthfully respond to it, either shooting it down or confirming it). Of course, simply saying "incorrect" is not acceptable. In other words... yeah - I will have to explain why that isn't correct. Remember, you get only
one
per round. The reason this is one - the killer can be extremely vague and not leave enough clues, leaving the survivors to lose in the end because of one incorrect detail and two, because it will force the killer to come up with a clever and out-of-the-box way of killing his or hers victims.
Ghost Investigation Rules:
-Ghost Investigation may be called at anytime after more than 50% of players are dead under GM discretion.
-Players can only become ghosts if they are dead and their body has been found.
-Ghosts have free reign over map to investigate.
-Ghosts can walk through walls.
-Ghosts CANNOT interact with physical objects (That means pulse cannot be checked and items cannot be picked up or moved.)
-Ghosts can only interact and talk with other ghosts.
-Ghosts can come up with theories, but they do not count towards victory.
-Ghosts can lead players to evidence and theories through apparitions.
-Apparitions take the place of blue truth, and can only be used once as long as blue truth has not been used.
-Only ghosts can see ghosts unless ghosts use apparitions.
-Ghosts cannot perform secret actions.
-Secret passages should still be in spoilers (at least for this round).
-Ghosts appear where their body is found, not where they died.
-Accomplice may become a ghost to help through the investigation off in the event they died.
-After last victim is killed, ghosts can present theories for an unofficial victory (that means they can examine the body/ies of the last victim/s.
-Game will end 24 hours after last murder when ghost investigation is put in place.
-Ghost actions should be in purple.
-Ghost responses will be in italics.
With that said,
Only join game if you can guarantee being active during specified hours.
New Puzzle Rules
Throughout the round,
puzzles will be available and may be attempted to be solved by the players.
Attempting to solve a puzzle counts as an action
Players may use their
blue truth
to automatically solve the puzzle.
For the sake of fairness, the
killer
may use a
blue truth
, but only to be used on puzzles.
Detective may automatically solve one puzzle without using blue truth
, but they may still use their blue truth to solve another.
Before the round
, the killer will be given the
option
to have the answers of all the puzzles containing weapons; however,
they will not be able to open any non-weapon puzzles.
(Any attempt to solve these puzzles will result in an "Incorrect")
Puzzles

may not

be solved during a blackout.
Game is scheduled to Start on December 21
Players (in order of apperance)
"Silent Night" Rune
"Ain't Gettin' Nuttin' for Christmas" Player
"Chestnuts Roasting on an Open Fire" Raichu
"Baby it's Cold Outside" Raynor
"Deck the Halls With" Reecer6
"Little Drummer" Hat
"Grandma Got Ran Over by a Reindeer" IN COURT