Member of the Month
November 2010
ShadowEdgeworth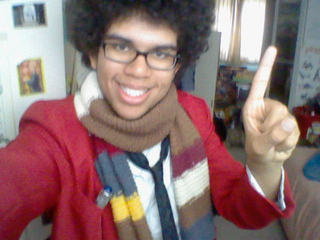 Those teeth are so whiiiiiiiiiiiiiiiite!
This is the Member of the Month; an interview that I do at the end of each month. It's a fun way of finding out about respected members of the community.
I personally select each month's Member of the Month. People are picked based on their contributions to the community, whether they are: making excellent trials, providing comic relief or just being a brilliant person. The next Member of the Month could be you!
If you have any questions about the Member of the Month system, please PM me.
* * * * *
It has been suggested for quite a while that ShadowEdgeworth will be the Member of the Month. But is he this time? Yes, so stop pestering me about it!!!11!!11ONE
Shadow became a QA reviewer this month, which is why he is also this months MotM (which is probably why most people predicted correctly, this time). Shadow is British and is well-known due to his very popular trial series, "Miles Edgeworth: Ace Attorney."
* * * * *
Meph:

Hello. Welcome to the sixth Member of the Month interview.
ShadowEdgeworth:
Thank you, it's a delight to be here.
Meph:

How did you find AAO, and what made you want to join?
ShadowEdgeworth:
Well, how I found it... I was interested in creating my own AA case, so I searched around on Court Records and came across Unas's topic for AAO. After playing the trial "Silence of the Turnabout", I immediately wanted to join.
Meph:
How did your first attempts with the Trial Editor turn out?
ShadowEdgeworth:
Hmm, not too good, really. My first trial was an attempt at GS5, and it was... quite, quite bad. It was grammatically perfect, but the dialogue was sub-par and it was filled to the brim with glitches. Thankfully I improved. A helluva lot compared to that.
Meph:

Tell us about your most famous trial series: "Miles Edgeworth: Ace Attorney."
ShadowEdgeworth:
Ha, ha, well, there is a lot to say about that- where shall I start?
Meph:
Where ever you want.
ShadowEdgeworth:
Very well, then. I came up with the idea after replaying 3-4, and I just... I don't know, something clicked, and I thought "Wouldn't it be awesome to do about the origins of Miles Edgeworth, the Demon Prosecutor!". Of course, I was partly influenced by the announcement of AAI as well. In fact, ME:AA went through several first drafts before I made the announcment of its creation, one including Manfred being the co-council, but I felt it would be more in the spirit of Ace Attorney to include every one's favourite Rookie Killer.
Also, I see it as the best way to express my thoughts on the origins of several AA characters, many still to come in the later cases. I must say though, above all else, ME:AA is incredibly fun to write. Makes we wish I hadn't got rid of Gumshoe quite so soon...
Meph:

You've recently become a QA reviewer. What has that been like?
ShadowEdgeworth:
Oh, it's awesome. I've only recently started, but I'm sure it will be awesome. I look forward to featuring trials and giving critique that I hope people will take on board.
Meph:
What uniqueness do you think you bring? Is there anything you think you mostly specialise in?
ShadowEdgeworth:
Well, I think it's too early to tell, but I think I'll specialize in characterisations. I like to think I'm quite good in that field of fangame creation. My work on Justice's Memoirs is quite good, according to my boss, Tap.
Meph:

Let's step away from AAO, now. What was your childhood like?
ShadowEdgeworth:
Hmm, it was alright. Early childhood wasn't that good really. I got bullied at school quite a lot. Therefore, from 8 years old, I've been home-taught, and I find it more enjoyable than school. Of course, I'll be starting sixth form, soon, so it'll be my first school day in 8 years!
Meph:
Home taught? Do you think that has had an impact on your social life?
ShadowEdgeworth:
Well... yes, iit definately did. Up to about 2 years ago, I literally only had about two friends I saw on a regular basis. Made worse by the fact that they didn't like each other at all. -_- Though thankfully I've made quite a few more friends since then, due to a GCSE
*
club.
Meph:
I was just about to ask you about that. How do you work on your GCSEs?
ShadowEdgeworth:
I attend a GCSE support club with a group specifically for home taught kids, like myself. It's like school lessons, but each is two hours long and on different days. And I must say it's pretty enjoyable, and it's a lot better than my previous school experience.
Meph:
Do you think you were better off being home taught?
ShadowEdgeworth:
Yes, definately, without a doubt.
Meph:
Which subjects are you doing?
ShadowEdgeworth:
I've completed Biology and Maths, so I'm now doing Chemistry, Physics, Music, Drama and English. I also chose Psychology and History.
Meph:

What are your plans for the future?
ShadowEdgeworth:
Well, I hope to be a game designer, or a Lawyer, as cliched as that may sound...
But it is my dream to design, or be involved in the creation of a Sonic the Hedgehog game.
Meph:

What is your favourite Ace Attorney game?
ShadowEdgeworth:
Trials and Tribulations, without a doubt. It's ben a major influence to me in the creation of ME:AA and it ties up the PW series quite nicely. It is just plain awesome.
Meph:
Everyone says that.
And I'm guessing it's for the usual reasons? An emotional story, brilliant cases, etc...?
ShadowEdgeworth:
Yup, got it in one. It sounds predictable, but my favourite case is Bridge to the Turnabout.
Meph:

What other games do you really lik-- Wait. Sorry, I'll rephrase that. What is your favourite Sonic game?
ShadowEdgeworth:
It has to be... Sonic 3 and Knuckles. But my favourite 3D one is without a doubt, Sonic Colours.
The lighter approach to it makes it much better than its predessors, and the wisps are probably the best "gimmick" of all 3D games.
Meph:
Yes, we have so many memories of Sonic. Was one of them the first game you ever played?
ShadowEdgeworth:
Yup. Sonic the Hedgehog 2. On me dad's old Mega Drive. I remember getting to Wing Fortress... then dying! Complete Game Over, and boy was I unhappy. However, nowadays I still get a sense of satisfaction when I beat the Final Boss.
Meph:
What do you think of the newest voice actor to play Sonic: Roger Craig Smith?
ShadowEdgeworth:
I think he's fantastic. The Matt Smith of the Sonic world. A brilliant successor to his predessor who had a lot of fans. I wasn't really a fan of Jason Griffith, mind...
Meph:

Next question:- Let's talk Doctor Who! Yay!
ShadowEdgeworth:
Yeah, let's!
The best Sci-fi show ever, in my opinion!
Meph:
It's the best
show
in
my
opinion.
ShadowEdgeworth:
Ha, you got that right! It certainly is. I certainly like the new ones with Matt Smith. He could eventually be better than David Tennant eventually.
Meph:
What was your favourite episode in the latest series?
ShadowEdgeworth:
I really like Doctor Who as it is... just incredible. The action, the emotion, the fun, the humour... all in one brilliant balance. All the secret to its longetivity. Favourite episode... The Pandorica Opens. Without a doubt.
Meph:
Not part 2, "The Big Bang"?
ShadowEdgeworth:
Not really. The Big Bang was excellent, but I preferred Part 1. I mean, Part 1 had all of the Doctor's enemies in one room, but by Part 2, they're fossilised remains. D: That said, it was still a fitting end to the best series of Who so far.
Meph:

Sadly, the interview is nearing its end**. Do you have any other interests?
ShadowEdgeworth:
Aww.
Well, I like to play the piano. Not nessesarily the pieces my teacher tells me to play, but I like the piano. Improvisation is awesome. I'm also a member of a percussion ensemble, so that's pretty fun.
Meph:
How well can you play them?
ShadowEdgeworth:
Lol!
I'm pretty good with the Piano, I'm about Grade 4 as of now, and I can't really go wrong with the drums. It's mainly enjoyment, so I have my good and bad days.
Meph:

Before we conclude this interview, do you have anything else you'd like to say?
ShadowEdgeworth:
Well, I'd like to thank everyone who's supported me in ME:AA, especially Tap, who's a fantastic support for me in this project, and of course, Unas for making AAO.
I've got something pretty special lined up in the next part, I'll say that...
Meph:

Thanks for the interview!
ShadowEdgeworth:
Thanks a lot for choosing me! G'night everybody!
*
For those that don't know, GCSEs are the initial qualifications that 16 year olds receive at the end of compulsory education. To get them, they have to do exams and coursework.
**
It's not sad for me, though. I've been doing this interview all night, whereas you, reader, have been lucky enough to be able to go through it in just five minutes!