Member of the Month
July 2012
Holhol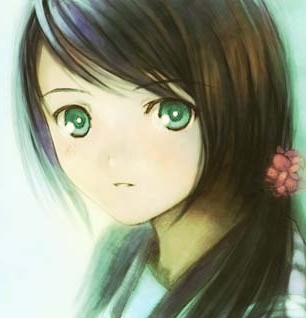 No one ever smiles in their photos...
This is the Member of the Month; an interview that I do at the end of each month. It's a fun way of finding out about respected members of the community.
I personally select each month's Member of the Month. People are picked based on their contributions to the community, whether they are: making excellent trials, providing comic relief or just being a brilliant person. The next Member of the Month could be you!
If you have any questions about the Member of the Month system, please PM me.
* * * * *
It's only taken two years, but we finally have a lady as our next Member of the Month (with the exception of Mimi, what with her being an empress and all). Holhol has been a member of AAO since January 2011, and has been a big part of our community ever since.
* * * * *
Meph:

Hello. Welcome to the twenty-sixth Member of the Month interview.
Holhol:
Thank you. It's certainly both an honor and a surprise to be here.
Meph:

Can you tell us about how you found AAO, and what made you want to join?
Holhol:
It's kind of a (semi)common story, actually. I had been obsessed with becoming a defense attorney for quite some time, and this friend of mine recommended
Ace Attorney
. I had never heard of the game before, so naturally, I was curious. It wasn't until a few days after Christmas in 2010 that I had seen
Ace Attorney Investigations: Mile Edgeworth
on the shelf. I bought it. Became hooked. Bought the original
Phoenix Wright: Ace Attorney
on the Wii. Became even more hooked. I began constantly stalking the Ace Attorney Wiki, and somehow, I had ran into a mention of AAO. I loved the idea of being able to make my own trials, and that was when I joined. Which is ironic, because that's exactly what I ended up not doing.
Meph:
Did you ever play the rest of the games in the series?
Holhol:
What kind of obsessive fangirl would I be if I didn't? Actually, I played the games in quite an odd order. AAI - PWAA - T&T - AJAA - JFA. I did love every minute of every game, though. It was my favorite series for a while...
Meph:

You've known for Turnabout Crackdown, but are you planning on making any other games?
Holhol:
Actually, I am. Just not at the moment. When I joined, I had made thread after thread of projects I wanted to start. In return, however, I wasn't able to release *any* of them. I'm aware of this problem now, but at the time, I was just so ambitious I didn't care that I wasn't getting anything done and looking like a fool at the same time.
But yes, I do *want* to release a trial at some point, but I don't want to jump into making the thread. I just don't want to want make any promises I can't keep anymore, so I've been working at a very slow pace for now.
Meph:

What's your favourite fan trial on AAO?
Holhol:
Oh God I knew you were going to ask this question. Honestly? I haven't really gotten around to that many. I do really like
Nexus
and all for it's uniqueness, but after consideration, my favorite is undoubtedly is the Matt Silver series by Narokh.
Meph:

Now let's talk about your personal life. What was your childhood like?
Holhol:
Pretty dull when I look back on it. I was nothing more than a little girl running through my house with a Barbie in one hand and a G.I. Joe figure in the other. Honestly, I was too eccentric, and, as sad as it is to admit it, I really had no friends. At all. Actually, it wasn't until 7th grade that I actually made a nice group of them. Looking back, I pity my younger self. I was naive and ignorant.
Though, I do have to say it wasn't a complete wasted space. I doubt I'd be as much as a gamer as I am today had it not been for the SNES.
Meph:
Were there any places you liked travelling to?
Holhol:
My grandparents' house. It was very exciting. I also loved to go to the river, that was always an adventure, too. But I was pretty much a homebody.
Meph:

That brings me to my next question. What is your average day like?
Holhol:
Nothing special. On a schoolday, I always get up, take a shower, and go to school and proceed with an average, uninteresting day filled with perverted comments and too much laughter and lots of gum chewing only to come home and waste hours on end on a computer, perhaps play with my dog and talk to my mother and play a game or two and go to sleep.
Buuuuuut, since I'm on summer vacation at the moment, I get to spend everyday like the latter half of a schoolday!
Meph:
Hooray! *brofist* So what do you like to do on the computer, other than AAO?
Holhol:
I constantly write random ideas down on Google Docs. I have tons of short stories on there for absolutetly no reason at all, and a whole lot more novel premises. Other than that and lurking on tumblr/Facebook, there isn't much I like to do.
Meph:

What are your plans for the future?
Holhol:
I'm not entirely sure. I know I want to become a journalist, while being a novelist on the side. And I'd love to move to a place like New York City or Sydney, Australia. Maybe eventually finding a partner.
Meph:
What made you interested in journalism?
Holhol:
I happened to have caught a glimpse of CBS News, and there was a little thing congratulating a journalist named Clarissa Ward, who won a Peabody Award for her coverage of the Syrian uprising. I have no idea why, but I was very intrigued on the idea. So I began researching it a little bit, and found it somewhat exciting that she actually went into Syria knowing the consequences of what would happen had she gotten caught (AKA Syria isn't too fond of journalists). I don't think that's a situation I would mind being in. I would love to be able to do my own investigating on all types of situations.
Meph:

What is your favourite Ace Attorney game?
Holhol:
I'm in the minority, as always, but it's Justice For All. I thought it was definitely the most emotional out of all the games. No more motives such as "I was broke I needed money", and the like. With the first being an exception, the entire game had the perfect amount of humor and sadness.
Especially when the miracle never happen..
Meph:

What other games do you really like?
Holhol:
I'm a major fangirl of the Final Fantasy series, even though I only own 5/14 games in the main series. But they are so amazing. I don't even know why I like them so much now. I just do.
I'd even say FFXIII is my favorite game ever, but it appears I'm in the minority again.
I'm also a major fan of the Uncharted series, Professor Layton, Heavy Rain, Kingdom Hearts, Tekken, and The Sims.
Meph:
What made you such a big fan of Final Fantasy?
Holhol:
I'm not even sure. I was never interested in the series until I saw all the flack Final Fantasy XIII was getting. Honestly, I bought it just to see what was so horrible about it. And now, I'm in love. I'd consider FFXIII to be the best game ever, and FFVII is pretty great, too. Now I'm slowly but surely trying to build up on this collection.
Meph:
What was the first video game you ever played?
Holhol:
The first one I can remember is Donkey Kong Country, because I remember spending hours of my early days playing with my grandfather. As I said earlier, I would not be here today had it not been for the SNES in general. I just remember loving it to pieces. Those were the good ol' days, y'know?
Meph:

Last question, now. Do you have any other interests?
Holhol:
I'm a major fan of music and films. In fact, I've probably seen a lot of films that a lot of people have never even heard of before. So I'm a big movie fanatic.
Meph:

Before we conclude this interview, do you have anything else you'd like to say?
Holhol:
My time on AAO has been very enjoyable, and I've met some very enjoyable people, as well. It's been a great time on here so far, and I expect it to continue for quite a while... seeing as I have nothing better to do with my life in the meantime!