Investigation segments demand close attention to design. Not all players investigate in the same way, so a design that satisfies the designer may be torturous to the player.
Here, I'll discuss principles and pitfalls of investigation design in a guide punctuated with exercises to try out. Feel free to post your answers below!
What Makes a Good Investigation?
---
Exercise 1:
What do you consider the
top three
most important aspects of a good investigation?
-----
My answer, which is far from the only possible one, is that classical AA investigations require:
Spoiler : Ferdie's answer :
Wildly non-traditional investigations can break the rules, but usually, failing at even one dramatically reduces the fun of an investigation. Let's start with the sense of exploration.
The sense of exploration:
Traditionally, AA investigations give the player little real choice. Every dialogue option must be chosen and every piece of evidence noted, ensuring that the player sees all relevant clues. This makes it easier to pace the development of the plot and characters.
---
Exercise 2:
Note some of the pros and cons of giving the player choices in an investigation. Is it possible to do this and still have a fair, winnable game? What challenges does it present?
---
Even in this model, careful design can give the player the
impression
that they're freely exploring, to a point. Filling every location with curiosities to examine, letting them decide whether or not to examine irrelevant scenery, appeals to those of us who like to poke around. The same goes for optional "present" dialogue; at the very least, people should respond to their OWN profile.
There are two kinds of AA players: those who show the badge to everyone, and those who only show it when necessary.
---
Exercise 3:
Choose one person from group A and one from group B:
Group A: Phoenix, Apollo, Mia, Edgeworth

Group B: Manfred von Karma, Chris Rock, Queen Elizabeth I, Superman
Write a present conversation for when the first person presents their badge to the second.
---
Exploration is more compelling when there's a genuine
sense of place.
By a sense of place, I mean that the locations seem to exist in physical space, connected to each other by more than a "Move" button. The AA games have a hit-and-miss record in this regard. In
Trials and Tribulations
, Hazakurain is organized like a real location with real (if somewhat compressed) distances, but the scattered locations in the restaurant poisoning case are transparent bits of programming to click through.
(Some of the locked room fancases perfect this aspect of investigation design, probably because classical mysteries place a major emphasis on how locations are laid out in space.
Turnabout Pairs
hinges on it.)
The other way a location can give a sense of place is through
consistent atmosphere and tone.
If you pull backgrounds from Ceres' background pack, try to pick ones from the same game if possible and use consistent color schemes. I haven't always managed this myself, as it's hard with limited resources, but do try. Nothing breaks immersion more quickly than when the bedroom of a Western mansion looks like a small Japanese apartment.
Another trick to make places seem real is to show them at more than one time of day, or under different weather conditions. If done well, this brings out the way nighttime dulls the colors and distorts the shadows of a place, making even known locations suddenly unfamiliar. Of course, this is only possible if competent day and night backgrounds are available, which is not usually the case.
Finally, and most critically, locations that are not sterile and institutional should reveal something about the characters who occupy them. They certainly shouldn't contain objects that
don't
belong there; if you use a pre-made background, you should either edit out anything that is blatantly out-of-place for your story or come up with a convincing Examine message to explain it.
---
Exercise 4:
Here are the rooms of two people in the same business, managing goofy entertainment:
Room A: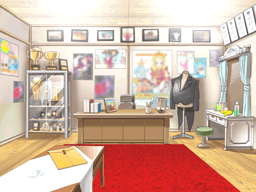 Room B: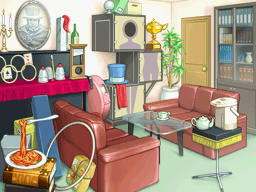 Both rooms are decorated with entertainment-related trinkets, but do they tell similar stories? Imagine you were playing these games for the first time. What impression would these locations give you of the people who inhabit them? What do they have in common? How do they differ?
---
However, no amount of geographical logic can make an investigation immersive if the player dawdles for too long. When this happens, the gears and wires that underlie the game logic get exposed.
For example, suppose the player wanders around desperately presenting everything to everyone, then discovers that presenting a case file to Gumshoe causes him to get a phone call from Franziska. Upon arriving in a location which had been empty the last five times they visited it, they see that Furio Tigre has arrived. From this player's point of view, it takes much suspension of disbelief not to consciously think, "Presenting the case file to Gumshoe caused Franziska to call him. These events also caused Furio to arrive." They are, of course, entirely correct, as this is how the investigation was programmed.
Under these circumstances, investigation becomes a dull guessing game. If the player is trying to figure out what triggers the next event, rather than where the
next discovery
would logically be made, the exploration is over and the metagaming has begun. The more naturally the events flow from the player's actions and movements, the better.
This doesn't apply as strongly if a well-defined obstacle bars the player's progress, such as a Psyche-Lock. In this case, if the designer has done their job well, the player will think, "How can I break this lock?", not "What event do I need to trigger?" But even that situation can break immersion if the player ends up re-searching every location for missed evidence.
----
Exercise 5:
Consider the following two design schemes. In both, the player can go to six locations, labeled A-F. Three events can be triggered by the player.
SCHEME ONE:
* Player moves to Location C to trigger event 1 by examining an object.
* Event 1 occurs and unlocks event 2.
* Player moves to Location D to trigger event 2 by talking to a character.
* Event 2 occurs and unlocks event 3.
* Player moves to Location A to trigger event 3 by presenting an object.
* This segment of the investigation ends.
SCHEME TWO:
* All three events are unlocked from the beginning.
* Once the player has triggered events 1, 2, and 3, in locations C, D, and A, in

any order

, this segment of the investigation ends.
Which of these schemes seems more like a player-directed exploration? Which seems more like a linear story? Under what circumstances might scheme one work better? Under what circumstances might scheme 2 work better?
---
Mummifying your player in endless wrappings of non-interactive text will also kill the sense of exploration. In the text adventure community, this is known as "tying the player to a chair and shouting the plot at them." Don't do it; research and experience show that a bored player won't even
remember
those critical details you're telling them. Instead, make them question the suspects and find physical evidence that tells the story more vividly.
After writing this guide, I
edited it to remove and tighten text.
Do likewise.
---
Exercise 6:
Why are there exercises in this guide?
---
Summary:
What's GOOD for the sense of exploration:
* Sensible location design
* Coordinated backgrounds
* Optional Examine and Present dialogues
* Player interaction that logically drives events
BAD for the sense of exploration:
* Unconvincing responses to evidence presentation
* Flatly incorrect examine dialogues ("There is nothing there" when the player looks at an object.)
* Plot monologues
* Arbitrary event triggers
-------------
I'll continue to the discussion of storytelling and pacing later, with a focus on the design rather than writing. Any questions or comments?