Three's Company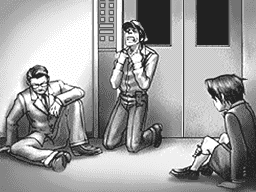 Just three people hanging in an elevator... What could go wrong?
If there's one thing Ace Attorney's known for, besides its mysteries, of course, it's its characters! Experiencing all the eccentric personalities of the characters is one of the best parts of any case. But what if things were a bit less... crowded?
For this competition, you must create a case with
three or less characters with speaking roles
. Basically, if there's a character that talks at any point, they count. I put in the speaking role qualification to make things a bit easier on you, if you really need more characters. Of course, with a defense lawyer, a prosecutor, and a judge, that's three characters already, so you'll need to think a bit outside the box for this one.
Judging
Story: All the normal stuff that comes with writing a story, plus a good justification for the lack of characters.
Presentation: Fitting music, graphics, and all the other presentation stuff. (This is my personal weak spot, so expect leniency here. However, extra effort is always appreciated!)
Gameplay: It should be fun to play! Good design is essential! If you include puzzles, make sure they're fair and of appropriate difficulty.
Theme Relevance: The case contains three or less speaking characters.

Rules
The entry
must
have been created between
Jan 10, 2020 and Apr 11, 2020
.
The entry
must not
be showcased until after the deadline, but
may
be showcased before the judging period ends.
The entry
may
be a trial, investigation, comedy or miscellaneous.
The entry
may
contain spoilers from the first four Ace Attorney games, but
may not
from any others (sorry, I still haven't gotten around to those ones).
The entry
must not
contain more than three speaking characters.
The entry
may
be incomplete.

Deadline
The entry
must
be submitted to trialdude by
Apr 11, 2020 at 11:59 PM PST
(with 24-hour wiggle room), with a walkthrough.
Entrants
CardiaX
the.armenator
Enthalpy
clcman & AwesomeYears
bigwins